Overview: GARVEE Commercial Food Mixer,15Qt 3 Speed with Stainless Steel Bowl, Dough Hooks, Whisk Beater,Stand Mixer With Safety Guard 600W,110V for Restaurant, Bakeries,Commercial Kitchen.High Efficiency & High Performance, This Commercial Stand Mixer Have Strong Power And Stable Performance. All Parts In Contact With Food Are Made Of Food-Grade 304 Stainless Steel, 15qt Capacity Bowl Is Easy To Operate, Can Mix 3.5 Lbs Of Dough In One Go.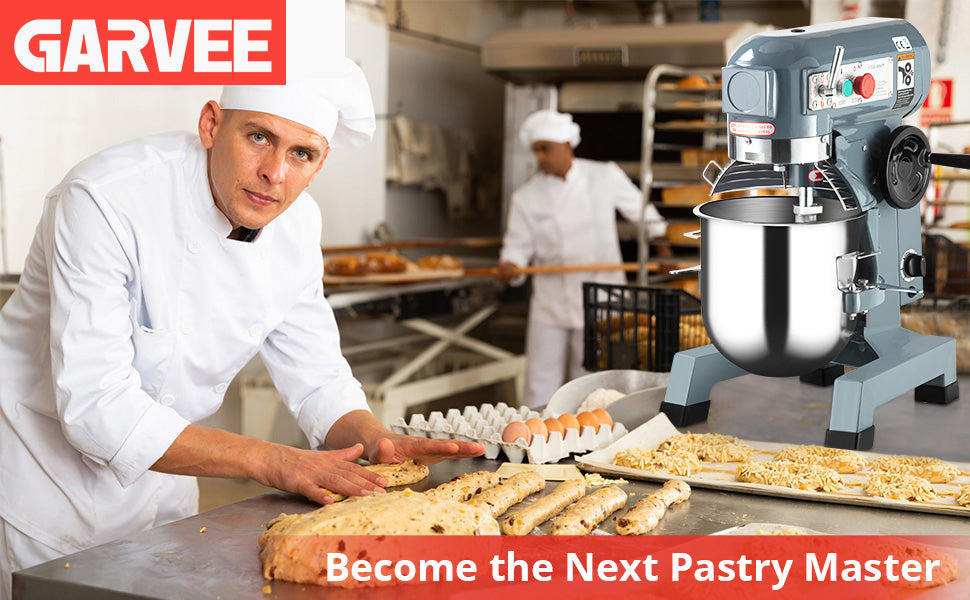 More?professional commercial machines, improve your efficiency, make delicious food faster and better.
Commercial Bowl-Lift Design, Adjust the height of the bowl at will, so that the mixer can better contact with the food.
Two Models , 10QT/15QT, Meet More Mixing Needs
3 Adjustable Speeds
Powerful And Quiet Motor
Strong Stainless Steel Bowl
Stable Four-Legged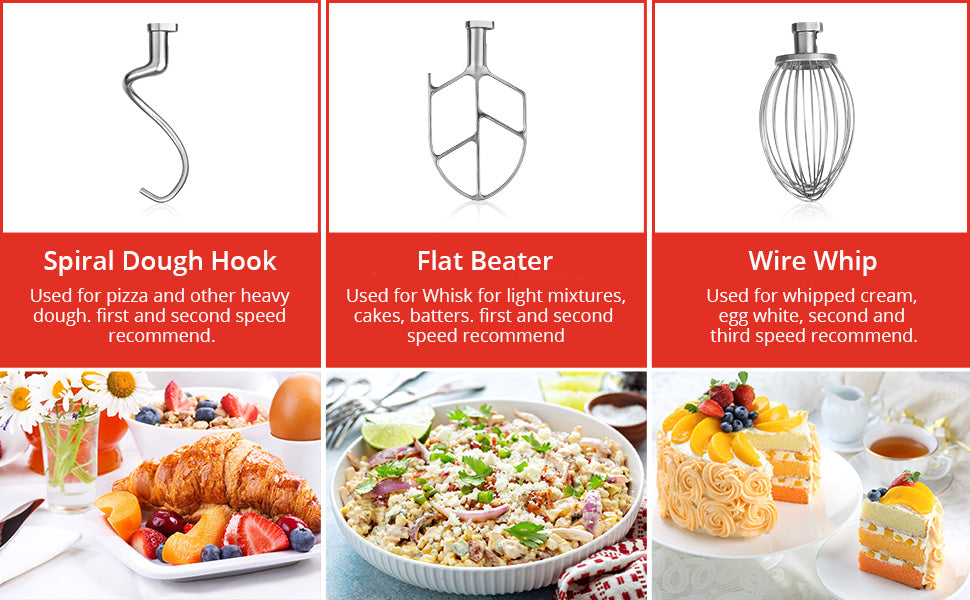 Three mixing stirrers are equipped for versatile use.All accessories can be disassembled and cleaned, very convenient
All accessories are constructed of durable stainless steel
Three Speed Adjustment: According to different materials or cooking stages,Adjust the stirring speed according to the demand to achieve the desired effect.
Dough Hook:Quickly produces rich ,creamy results for fluffy cakes. Suitable for low-density foods.
Flat Beater: Stir evenly without destroying the shape of the food. Ideal for a variety of fillings, salads and more.
Wire Whip:Mimic hand mixing techniques. Suitable for making high-density foods.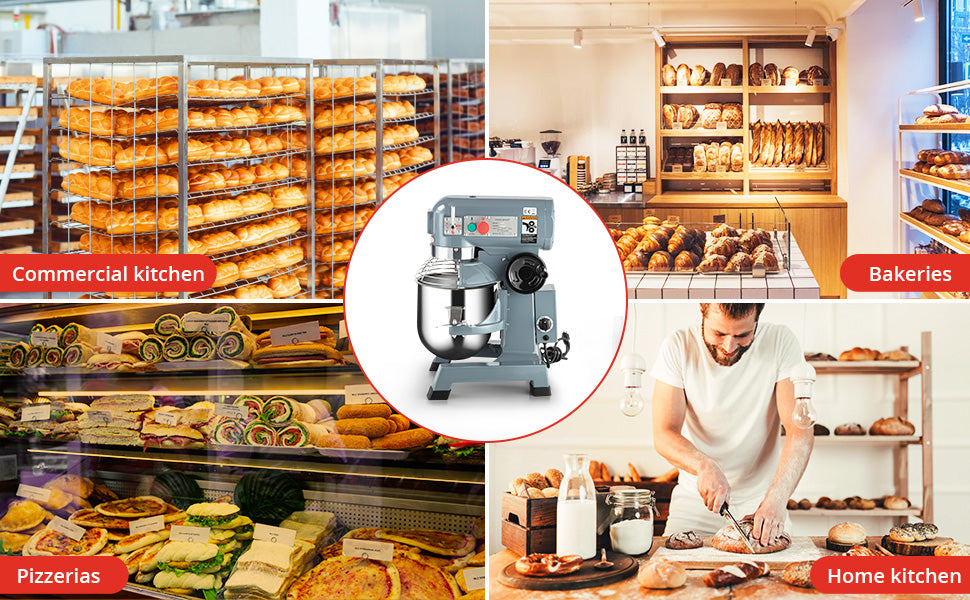 Many Applicable Scenarios
It is widely used in restaurants, bakeries, commercial kitchens, hotels, pizzerias,etc.
Perfect for all your food mixing needs including whisking, mixing, beating, beating and kneading.
Ideal for making pizza dough, bread dough, pie crust and more.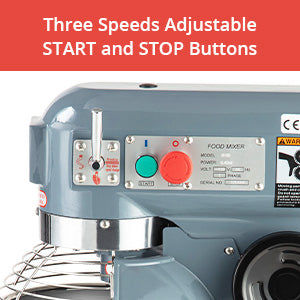 Easy To Use
Reasonable design, separate design of start and stop keys, digital timer reminder,The operation is simple and convenient.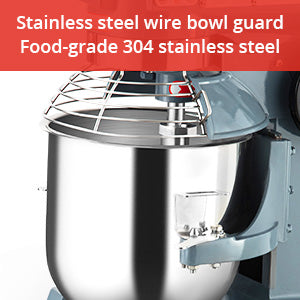 Security Guard
It have automatic shutdown function,Once the protective cover is opened or not closed tightly, the machine will stop working immediately, please be sure to check whether the protective cover is closed tightly before starting the machine.
Anti-Skid Design
The commercial mixer is heavy, and the four legs have anti-skid design, which protects the product from sliding and shaking during work, and ensures that the whipping work is carried out in an orderly manner.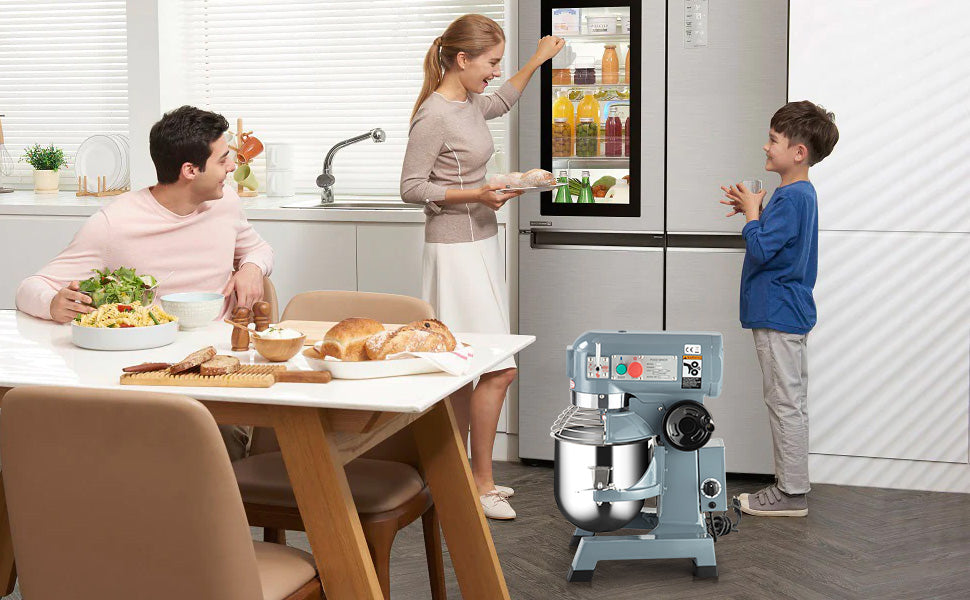 Product Features:
Three Replaceable Attachments
Kitchen mixer have 3 Attachments, Spiral Dough Hook: Used for pizza and other heavy dough. Flat Beater: Used for Whisk for light mixtures,cakes, eggs,batters. Wire Whip : Used to stir bulk materials, such as mixed jam, salad
3 Speeds To Choose
Standing Mixer have 3 kinds of speed option(130 RPM/233 RPM/415 RPM), Perfectly suitable to different ingredients,meet your different needs,It is perfect for mixing dough, pastry, mashed vegetables, mayonnaise, and so on
Stainless Steel Safety Guard
Guard is designed to designed to prevent item from falling into the bowl during operation,The guard MUST BE COVERED when the machine operate.The height of the bowl can be easily adjusted by a turning wheel and it can be removed for cleaning.
Specifications£º
Brand
GARVEE
Color
Blue
Product Dimensions
21″D x 16″W x 30″H
Material
Stainless Steel
Number of Speeds
3
Special Feature
Removable Bowl
Wattage
600 watts
Model Name
MIQ
Is Dishwasher Safe
Yes
Item model number
MIQ15
Product Dimensions
21 x 16 x 30 inches
Item Weight
137 pounds/62.14kg
Package Contents
1 x commercial blender
1 x dough hook
1 x Flat Beater
1 x wire whip